Chair Yoga Teacher Training
Do you have students, patients, or clients that would benefit from doing Yoga but…
Cannot get down on the floor because of

age, handicap, or inflexibility

?

Want to practice their Yoga where

getting on the floor is impractical

?
These folks have traditionally been unable to reap the exceptional benefits yoga brings to the body, mind, and spirit. Now you can open this wondrous world to a new audience!
Our chair yoga teacher training is great for a variety of individuals—yoga teachers, health care practitioners, or people looking to expand their own personal practice. We also have training programs specifically designed for Retirement Home & Long Term Care staff and volunteers.
Contact us if you'd like more information about these specialized programs.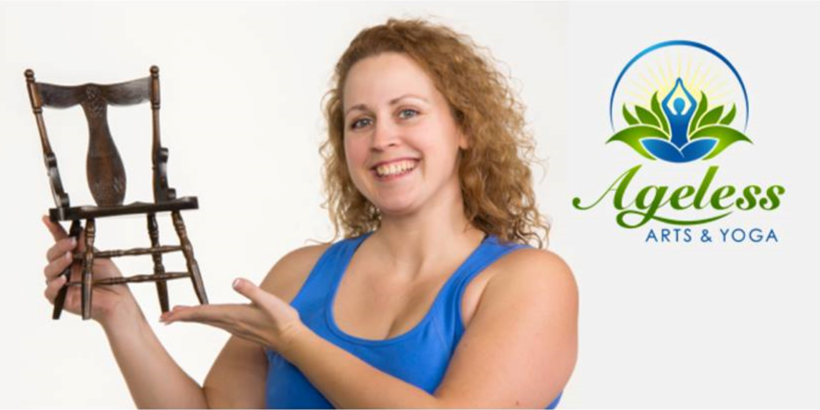 Cost:
Individually
Early Bird $450+HST (cash, cheque, e-transfer only)
$495+HST  (accepting all forms of payment including credit cards)
Combine both Trainings
Early Bird $900+HST (cash, cheque, e-transfer only)
$990+HST  (accepting all forms of payment including credit cards)
The Foundations of Chair Yoga
Ageless Arts Chair Yoga Certification
August 25 – 27, 2021
Location: Live Online (Zoom)
Early Bird: Aug 1st, 2021
Daily Schedule:
Wednesday –  1:00pm – 4:30pm
Thursday – 9:00 am – 4:30 pm
Friday – 9:00 am – 4:30 pm
Chair Yoga Therapeutics – Balance & Support
CANCELLED DUE TO COVID19
July 17 – 19, 2019
Location: 1 Bethel Rd, Paris, ON
Early Bird: June 19th, 2019
Daily Schedule:
Wed – 1:00 pm – 4:00 pm
Thurs – 9:00 am – 4:00 pm
Fri – 9:00 am – 4:00 pm
20 hours Chair Yoga Therapeutics Certification Yoga Alliance Approved
Details on our next session coming soon!
Testimonial:
I just finished the second of the two chair yoga workshops: "Foundations of Chair Yoga" and "Chair Yoga Therapeutics" designed and presented by Tracey this past weekend. For any of you yogis or yogi wanna-be types who wish to make the benefits of yoga accessible for everybody and every body, I highly recommend that you take these workshops.
In a most relaxed, safe, and secure environment, Tracey walked us through asanas that were tailored to meet the needs of almost any guest one might have in a chair yoga class. We covered the all-important breath work and stillness portions of any class but Tracey, in a most magical way, layered in dozens of options for each asana which focused on the specific needs for participants with Cancer, Alzheimer's Disease, Parkinson's Disease, to mention a few. Dozens of contraindications for other conditions such as Osteoporosis and Osteopenia as examples were addressed in a clear and concise manner giving us a good deal of time to experience, practice, and receive constructive feedback in a supportive and encouraging manner. Using a cutting-edge app, we were shown "almost live" views of the anatomy of the body and all it's systems. In addition, we learned Chinese acupressure massage for Arthritic hands and knees and to our amazement saw the immediate benefits thereof.
Don't hesitate to sign up for the next workshop coming soon to a location near you!
With deep respect and gratitude,
Karin DesChamp
Peterborough