PARIS, ONTARIO
Chair Yoga Therapeutics: Balance & Support
Teacher Training
Presenter: Tracey Eccleston
For anyone interested in learning or teaching Chair Yoga classes. Including Certified Yoga Teachers, Teachers in Training, Health Care Professionals and Yoga Practitioners looking to expand their practice. You do not need to be a Yoga Teacher to become a Foundations of Chair Yoga Certified Teacher. We do request a minimum of 20 hours yoga experience.
Chair Yoga Therapeutics: Balance & Support provides an excellent addition to any accessible yoga class. It is a unique program that will teach you how to start using the chair as a support & prop in your practice. It qualifies as a continuing education unit for the Yoga Alliance.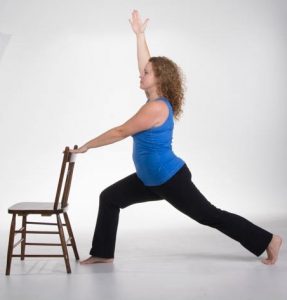 Chair Yoga Therapeutics explores the importance of balance, along with a deeper understanding of many of the challenges we may face when ageing. It provides the opportunity to learn unique asanas that use the chair as a prop, as well as the following:
Understand the top 8 health challenges related to ageing
How to support transitions up and down from the floor
Explore the importance of Alignment & Anatomy when adapting asanas
Learn the Sa Ta Na Ma Meditation
Feel the benefits of the Energy Healing Practices
Practice &  explore 14 different balance series
Learn Super Brain Yoga
Study key pranayama (breathing) techniques
You will receive a manual and at the completion of the course, a certificate stating you have completed the Therapeutic Balance & Support Chair Yoga training and are a registered Chair Yoga Teacher with Ageless Arts Yoga. This course qualifies for Yoga Alliance continuing education units as well.
Presenter:
Tracey Eccleston has been proudly teaching and practising yoga for over a decade. When she's not working as the Owner & Director of Ageless Arts Yoga or teaching The Foundations of Chair Yoga & Therapeutic Balance & Support, she tours throughout Canada, the United States and the Caribbean teaching.
Tracey started training to become a yoga teacher at…  learn more
Stay in Touch
Sign up to receive emails about Chair Yoga