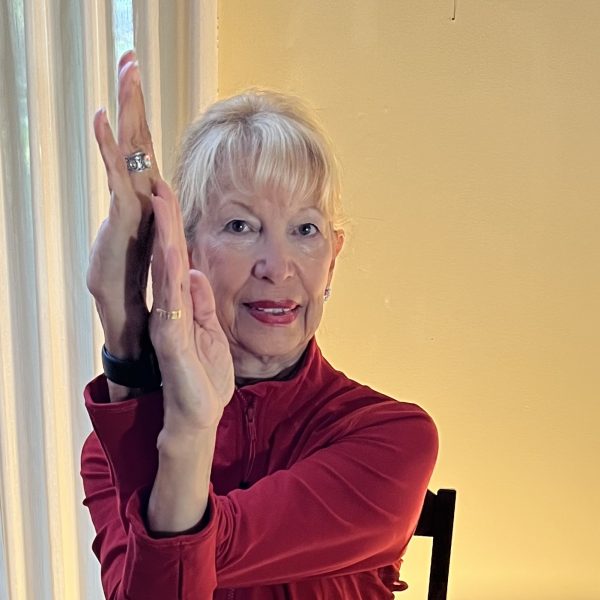 Chair Yoga with Mary Zadel

Mary Zadel has been a strong advocate for health and fitness all of her adult life. She built upon her Certified Group Fitness training by pursuing Yoga Teacher Training through Ageless Arts Yoga with Tracey Eccleston. Mary's mission is to inspire others to be fit and healthy and the best of themselves that they can be.

As an RYT200 Yoga Teacher and Chair Yoga Teacher, Mary designs and delivers accessible, gentle yoga suitable for all ages, all fitness levels and all body types.

Connect with Mary via email at zadelmary@gmail.com
Wednesday's 2:00pm – 3:00pm EST
Join Mary & Ageless Arts Yoga for Live Online Chair Yoga classes. We invite participants to sign in early and interact with Mary, Tracey and the other participants creating a sense of connection and community. There's an opportunity to stay online after the class as well, to ask questions and discuss the various poses and flows or other topics of interest.
What you need…
You will require a screen (computer, laptop, tablet or smart phone). Internet access is also required as all classes will be delivered through a private link using the Zoom platform. A stable chair without wheels or arms, which fits your stature so that your feet can firmly touch the floor while you are seated on the chair.  It's important that the chair be stabilized so that it will not slip. Other yoga props often used are a yoga block and a yoga strap or suitable substitutes.
Most importantly, to benefit from the Chair Yoga class fully, was invite you to join classes with an open mind, a positive attitude and a willingness to try the poses and flows along with the slow deep breaths. All the while, paying attention to you body and only doing what feels safe and comfortable.
Why Chair Yoga?
The benefits of chair yoga are many. Mary offers plenty of modifications and options using the chair both as a seat and as a prop to support a variety of modified traditional mat yoga poses. Many clients enjoy the ability to explore poses that may not have been accessible to them without a chair. 
We love Chair Yoga with Mary because:
it's accessible to everybody and every body

with the aid of the chair you can explore both standing and seated yoga postures with confidence

it increases your body's strength and flexibility along with a sense of well being

it's convenient to experience the live online class in the privacy of your own home without the need to travel

it's "joint- friendly" and transformative bringing a state of mental calmness

it's a wonderful social community of like-minded people
Testimonials:
"Mary offers a wonderful weekly class that is fun, dynamic and accessible. I love how she has created a community where everyone feels welcome. I always look forward to seeing friendly smiles on Wednesday afternoons." ~Tracey E.
"I just wanted to let you know how much I enjoy your Chair Yoga class online. I love that I don't need to leave the house. The class recordings are great – I try to do them at least twice a week." ~ Joanne
"about the 10 minute YouTube video you recorded entitled "Stretches for Gardeners" – what a wonderful 10minutes! I feel a whole lot better with your simple stretches" ~Colleen
"it's not the "same old" from week to week. There is something new and challenging in every class." ~Frank