Chair Yoga with Mary Zadel

Mary Zadel is retired but it's hard to tell. She has reinvented herself as a Yoga Teacher, Chair Yoga Teacher, and Group Fitness and Spin Cycling Instructor. Mary's passion is to continue to be an active, fit and healthy senior. Her mission is to inspire others to live life to the fullest. When teaching Chair Yoga, Mary designs classes that are uplifting, and most importantly accessible. She believes in Ageless Arts Yoga's mission to make yoga accessible to everybody and every body. 

Connect with Mary via email at [email protected]
Wednesday's 2:00pm – 3:00pm EST
Join Mary & Ageless Arts Yoga for Chair Yoga classes. Mary uses gentle traditional and non-traditional methods of yoga to achieve a relaxed and open state of being. You will need a stable chair that fits the proportions of your body. We recommend a non-slip surface such as a mat to stabilize the chair. Internet access is required, all classes will be accessed through a private link using the Zoom platform.
What you need…
 You will require a screen (computer, laptop or tablet) with internet access and a Zoom account. A stable chair that fits your body, with the ability for your feet to comfortably land on the floor. Please be sure that your chair is solid and sit firmly on the floor without slipping. In some classes, Mary uses a yoga strap. If you don't have a yoga strap a men's tie, scarf or belt from your bathrobe works perfectly. 
Most importantly you require a positive attitude, a sense of adventure, a willingness to smile and play while listening to your body and exploring movement, breath and yoga on the chair. 
Why Chair Yoga?
The benefits of chair yoga are many. Mary offers plenty of modifications and options using the chair both as a seat and as a prop to support a variety of modified traditional mat yoga poses. Many clients enjoy the ability to explore poses that may not have been accessible to them without a chair. 
We love Chair Yoga with Mary because:
it is a supportive way to explore both standing and seated yoga postures safely

it increases your bodies strength, flexibility and the mind's sense of well being

it invites you to connect and pay attention to your body, mind & spirit while moving slowly and mindfully

Mary has created a wonderful social community of like-minded people

is accessible to everybody and every body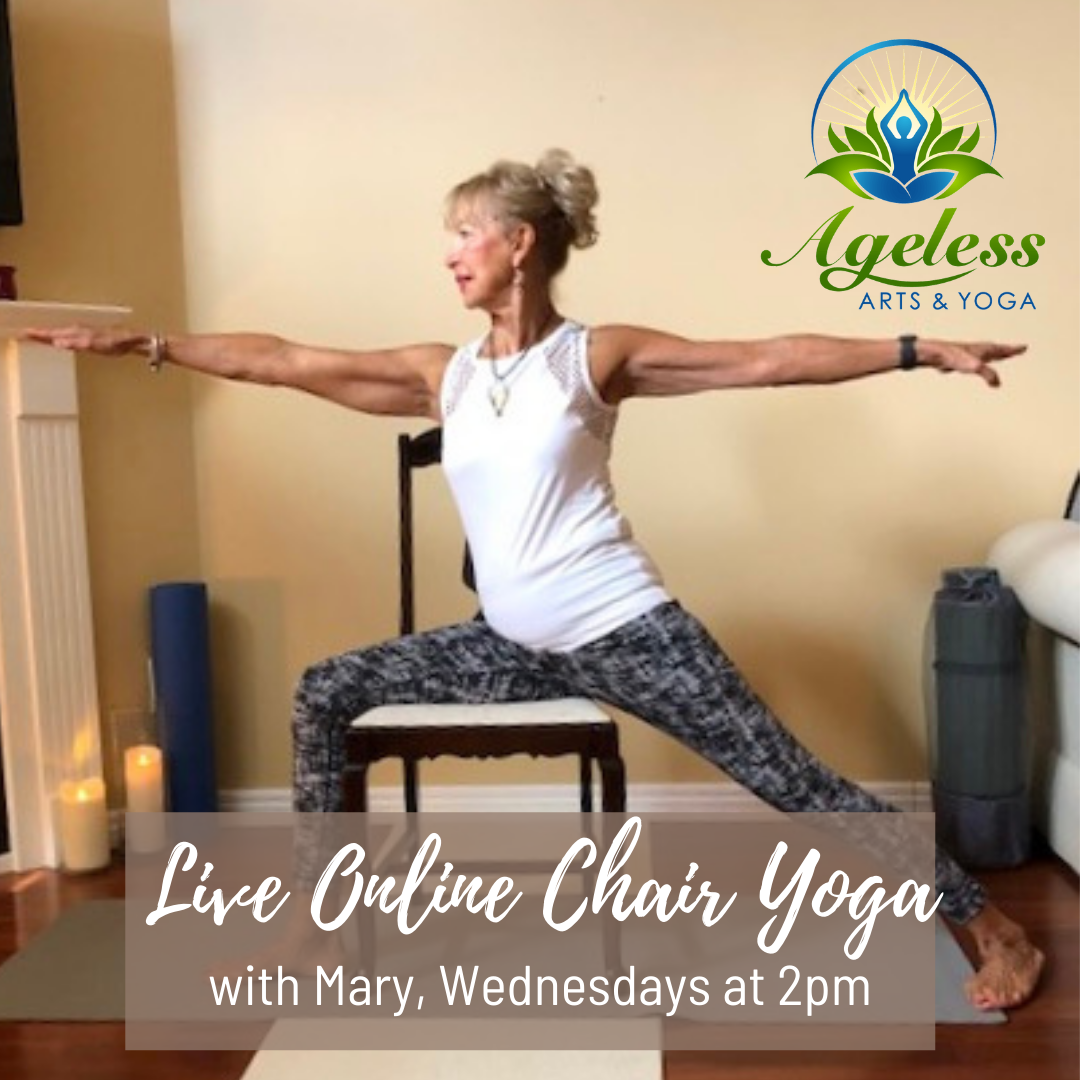 Testimonials:
"Mary offers a wonderful weekly class that is fun, dynamic and accessible. I love how she has created a community where everyone feels welcome. I always look forward to seeing friendly smiles on Wednesday afternoons." ~Tracey E.